The VFW has two floors that can be rented for Weddings, Birthdays, Anniversaries, Graduations, Quinceañeras, Business meetings, etc.
The upstairs hall has a stage at one end in front of the window as shown in the photos, and a bar at the other end. This room is great for receptions, birthdays, and just about any kind of party.
The downstairs hall is great for rehearsal dinners, larger baby showers, wedding showers, family holiday parties, and kids' birthday parties. This is where several organizations have large dinner meetings, and our once-a-month breakfast is held. Breakfast is held here on the 4th Sunday of the month September-April. This room is utilized quite often for Memorial luncheons as well. A kitchen is available with this room for an additional charge. The main hall can accommodate up to 200 guests, and the lower-level dining hall can accommodate up to 150 guests.
You can download a copy of the Hall Rental Agreement. Please call about availability and to schedule an appointment.
We also offer catering services. Click to see our Banquet Menu. Other items can be prepared, as well as specialized meals. Please contact club for pricing.
The VFW also has a smaller room, the Elks room, with a capacity of 49 people. This room can be rented for smaller events such as showers, birthdays, or business meetings.
The VFW also has an outdoor 2,250 (25′ x 90′) square foot pavilion that can be rented during warm weather months. Tables, chairs, and some bar services are available. You can download the Elks Room Pavilion Rental Agreement. Please call about availability and schedule an appointment.
If you have an upcoming event and would like to see about our room availability, please call the club and ask for Sheila or email us.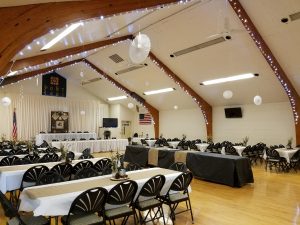 MAIN HALL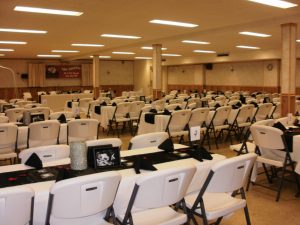 DINING HALL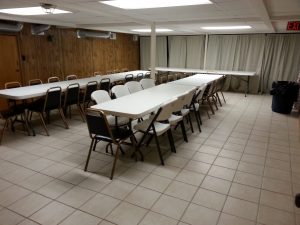 ELKS ROOM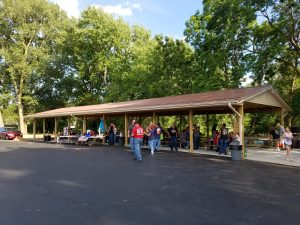 PAVILION