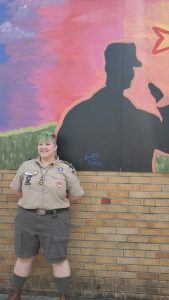 Meet Justyn Costa, designer and painter of the newest mural at the VFW.
Read about Justyn in their bio below.
Justyn Costa joined Scouts BSA in 2019 when females were first allowed to join the program (formerly called Boy Scouts). They had previously been a member of Venture Crew 181 (a co-ed program within BSA for 14 – 20 year old's), Scouts BSA Troop 111, and had been attending Scout meetings for many years as a sibling at their brother's troop, chartered in Cherry Valley, IL. Justyn was part of a special group in 2019 who were given 24 months to earn their Eagle rank, even if they turned 18 before the 24 months passed.
Dealing with the traumatic stress of the death of their father in 2019 and the severe activity restrictions and loss of high school senior year activities during the height of the COVID-19 pandemic did not deter Justyn from making progress towards the rank of Eagle. As they began to look for ideas for an Eagle Scout project, it was important to Justyn that the project related in some way to people looking to find inner peace and healing. Several ideas were considered, but the timing was not achievable for the deadlines they needed to work within. When Rob Bland from the VFW suggested a mural for the VFW, it was perfect is many ways. Justyn is the former President of the Belvidere High School Art Club, and also served as President of the IL Rembrandt Art Society for high school students, and is very artistically gifted. Knowing that the VFW post is a place that serves veterans and helps them to find their own peace after being deployed overseas fit right in with Justyn's goals for the project.
Justyn will be attending Rock Valley College in the fall and plans to study business and the hospitality industry, where they can continue to model the servant leadership and service to others that has been such a significant part of their Scouting experience.