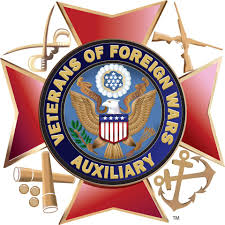 For more than 100 years, the VFW Auxiliary has been fulfilling its original objectives by supporting the Veterans of Foreign Wars, serving veterans, active-duty service members and their families, and spreading patriotism nationwide.
Our members have volunteered millions of hours, donated millions of dollars and honored hundreds of thousands of veterans. Volunteer with us and celebrate the freedoms we enjoy in America.
Auxiliary Membership Meetings
2nd Monday of each month at 7:00pm in the Club Dining Hall. Please come and show your support.
Auxiliary Membership
Auxiliary Membership Eligibility
Membership in the Auxiliary to the Veterans of Foreign Wars shall be limited to wives. husbands, widows, widowers, mothers, fathers, foster & stepparents (who have performed the duties of parent), grandmothers, grandfathers, daughters, sons, granddaughters, grandsons, foster and stepdaughters & sons (who attained that status prior to the age of sixteen and for whom the duties of parent were performed), sisters, brothers, half sisters, brothers, foster and stepsisters & brothers (who attained that status prior to age sixteen) of persons who were eligible for membership in the Veterans of Foreign Wars of the United States. Members must be citizens of the United States and at least 16 years old.
If you have determined that you are eligible to join the VFW Auxiliary, you can download a copy of the VFW Post 1461 Auxiliary Membership Application here. Be sure to complete it entirely, sign it, and mail it or drop it off with the 1st year's $25 membership fee and a copy of the veteran's DD-214 at the post. When you renew for the next year, dues will be $20.
Auxiliary Officers 2023-24
President – William Zangs
Sr Vice – Becky Coulson
Jr Vice – Steve Loveridge
Secretary – Elizabeth Costa
Treasurer – Lisa Loveridge
Chaplain – Janice Hoftender
Conductor – open position
Guard – open position
3rd yr Trustee – Becky Coulson
2 yr Trustee – Kathy Rohda
1st yr Trustee – Janice Hoftender
Patriotic Instructor –